7/30/10 5:43 pm
When I got my iPhone 4, my iPhone 3G became my new "iPod touch" (essentially). Though it only has 16 gigs of storage, it has better games and a nicer interface (and of course a much nicer screen) than my increasingly irrelevant 60 GB iPod classic. (I can hardly believe I watched half of season 2 of LOST on that tiny screen. However, if this rises to the level of "interesting" or approaches being a "problem," it simply demonstrates how good my life is overall.)
In any case, "upgrading" the iPhone 3G to iOS 4 was probably a mistake (though I didn't know it at the time). It is extremely slow at doing most things (the hardware is just not good enough to run the new OS). Luckily the 3G is no longer my phone and just hangs out in the bathroom, waiting to play music while I'm in the shower.
Lifehacker (which I'm starting to get a little bit addicted to) has tips for how to make iOS 4 usable on the iPhone 3G (or at worst how to downgrade it to iOS 3.1.3), since this issue is widespread.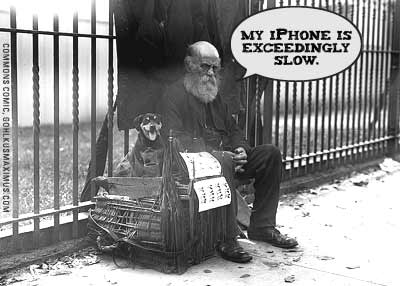 [ flickr commons ]

Previously: Most amusing spammer affiliation of the day: "Frightmare Forest"
Next: 402 posts in 10 1/2 years…


Post a Comment
You must be logged in to post a comment.
© 2000-2011 Jason L. Gohlke. The HTML and CSS on this page would validate if I didn't insist on embedding YouTube videos all the time and make other little mistakes. Ah, well. Powered by me & my WordPress.